Reflections on Light
Painter Shelley Jordon from Portland, Oregon, joins glass artist, Sonja Blomdahl from Seattle, Washington, for an exhibition that celebrates the glorious effect of light as it delineates delicate blooms or travels through transparent vessels. Still life is the exclusive subject matter of Shelley Jordon's paintings. Her large, colorful canvases are vibrant compositions of cut flowers, fruits, glassware, and printed cloths arranged on reflective table surfaces. The artist is known for her attention to details, her bold use of color, her emphasis on textures, and specially the effect of light on metal or through colored glass. Sonja Blomdahl's glass forms are dazzling for their simplicity rather than their intricacies. In fact, the
artist wants her work to communicate serenity and calm. Trained in Sweden and influenced by the Scandinavian emphasis on clean, pure lines, Blomdahl creates symmetrical vases and bowls of rich, layered colors. Glowing as though from within, her work has been described by Regina Hackett, a Seattle critic, as "condensations of colored, liquid light."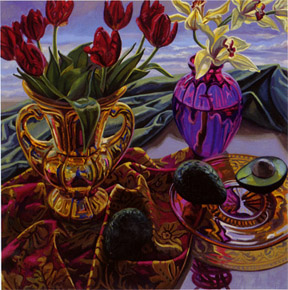 © Shelley Jordon, Avocados & Parrot Tulips, 1997; Oil on Canvas

© Sonja Blomdahl, Teal/Amber, 1996; blown glass
Showing March 12 - April 25, 1999
at
The Holter Museum of Art