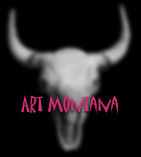 ART CENTERS
ARTISTS
CRAFTSPEOPLE
FOUNDRIES &
BRONZE ARTISTS
MUSEUMS |
GALLERIES
MEMBERSHIP
ART SUPPLIES
RESOURCES
COMPETITIONS
BULLETIN BOARD
OUT OF STATE LINKS
WEB DESIGN

Books about Art, Architecture and Photography



© Site Design and Maintenance by
Rattlesnake Valley Press

Art Montana Classified Advertising
Classified Categories

Art Works for Sale

Art Materials, Tools and Equipment

Events and Exhibitions

Galleries

Studios for Rent

Homes for Sale

Fine Art Insurance

Consultants

Calls for Proposals

Policy

Art Montana Classifieds are for the purpose of
disseminating information about artworks for
sale, art events, and special exhibitions. All
advertisements in this section are paid
advertisements. No warranty is made regarding
the content of any classified ad. Please report any misleading or fraudulent advertisements to us via

Text advertisements are .50 per word per month. Photographs can be scanned and placed with an ad for $10.00 each per month.



---
Browse the Art Montana Archive
Art Montana is developed and maintained for the purpose of promoting the arts in Montana
Markay Kern, Editor
Dennis Kern, Designer