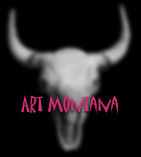 ART CENTERS
ARTISTS
CRAFTSPEOPLE

FOUNDRIES &
BRONZE ARTISTS

MUSEUMS
GALLERIES
MEMBERSHIP

CLASSIFIED ADS

ART SUPPLIES
RESOURCES
COMPETITIONS

BULLETIN BOARD

OUT OF STATE LINKS
WEB DESIGN
SCAM ALERT!
Thank you for requesting a submission to be listed in Art Montana
Please note that we only list artists who currently reside in the state of Montana. If you are out of state, please request that you be listed in our out of state resources. Submissions are manually reviewed and may not appear immediately.

To submit a listing, please follow this link.