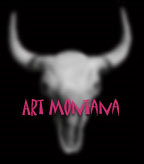 ART CENTERS
ARTISTS
CRAFTSPEOPLE
FOUNDRIES &
BRONZE ARTISTS
MUSEUMS |
GALLERIES
MEMBERSHIP
CLASSIFIED ADS
ART SUPPLIES
RESOURCES
COMPETITIONS
BULLETIN BOARD
OUT OF STATE LINKS
WEB DESIGN

David Shaner -- A Life in Clay

Showing at the Bill McIntosh Gallery December 5 through 31, 1999


© David Shaner, Four Aperture Low Bowl, Stoneware, 4.5 x 19.5 inches
Collection of the artist
Photograph courtesy of Josh DeWeese


Exhibition curator Bob Durden states: "David Shaner's work is one of the
best kept secrets in the state of Montana. David Shaner has contributed
significantly to the body of knowledge in the field of ceramics. Perhaps his
work is not as well known by the general public; however, upon seeing
David Shaner's work for the first time, viewers will recognize immediately
why his work is so well respected by his peers and sought after by
museums and private collectors alike. His work is exquisitely crafted and
evokes the viewer's reflections on the beauty and sublimity of nature, which
surrounds David Shaner at his Big Fork, Montana home and studio. "

The exhibition includes recent work by the artist, loans from the Archie Bray Foundation and the Yellowstone Art Museum, and several notable Montana art collectors. Grafix Studio organized the exhibition with assistance from the Archie Bray Foundation. Numerous private individuals devoted to the advancement of the Ceramic Arts provided funding for the exhibition. These funders and the exhibition organizers invite the public to discover the beauty and sophistication of David Shaner 's work.

A public reception will be held at the gallery from 2:00 - 4:00 PM, Sunday,
December 5, 1999. The reception is free and the general public is invited
to join in the discovery of work by this nationally renowned Montana artist.
As a former Director of the Archie Bray Foundation, it is fitting that the final
gallery exhibition of the 1999 season features work of this noted artist.
David Shaner's work can be seen through the end of the month during
regular gallery hours.