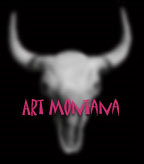 ART CENTERS
ARTISTS
CRAFTSPEOPLE
FOUNDRIES &
BRONZE ARTISTS
MUSEUMS |
GALLERIES
MEMBERSHIP
CLASSIFIED ADS
ART SUPPLIES
RESOURCES
COMPETITIONS
BULLETIN BOARD
OUT OF STATE LINKS
WEB DESIGN

Cathy Weber's Grief Series

Showing at the
Art Museum of Missoula Second Floor Gallery

May 27- July 8, 2000

Cathy Weber's Grief Series combines calligraphy, gold leaf, illumination, narrative illustration, stitchery and the poetry of Gertrude Stein. Informed by personal loss, the artworks form a chronology of loss, grief and healing.

A full-color catalogue of the exhibition will be available through the Art museum Bookstore.




© Cathy Weber, Grief's Weight, watercolor, skin, gold,
6.5 x 9, 1999


Opening Reception: Friday, June 2, 5-8 pm
Panel Discussion: Tuesday, June 13, 7pm
Video Screening: Tuesday, June 20, 7:30pm


Cathy Weber grew up in the Midwestern U.S., studied at Herron School of Art and Indiana University, and completed a formal painting apprenticeship in Mexico City. In 1981 she moved to Dillon, Montana, where she maintains a studio in the historic downtown. She is skilled at working at a variety of media though she executes the bulk of her work in watercolor. Following the death of her partner and father of her child she began the Grief Series, a group of paintings on skin parchment inspired by 15th century European illuminated manuscripts. Weber has incorporated the poetry of Gertrude Stein to help express the process of grieving.